There are times when you are in desperate need of new professional attire like skirts, dresses, and suits, but would rather not spend a small fortune to buy them. All we want is quality fabrics and sharp silhouettes that look just as amazing when you're out to dinner after work, as they do in your morning meeting. Is that too much to ask!?
For years, Ann Taylor Factor and LOFTOutlet have been providing just that: styles that aren't so over-the-top trendy you won't be able to wear them next week, but that are still modern, elegant, and really well priced. In addition to work attire, both shops are also killing it when it comes to casual wear, shoes, and even accessories.
Well, they've just made shopping a whole lot easier. Ann Taylor Factory and LOFT Outlet have launch e-commerce sites that finally make snagging their cute clothes as simply as a few clicks on your keyboard.
Here's everything you need to know about these new and exciting e-commerce shopping sites.
Ann Taylor Factory & LOFT Outlet's New E-Commerce Website
The LOFT Outlet & Ann Taylor Factory e-Commerce Sites Were Long Overdue
LOFT Outlet opened its first store in 2008 and has 166 stores across the United States and Puerto Rico. Ann Taylor Factory came on the scene back in 1993 and has 126 store locations. Both shops have gained a reputable name for themselves as shops that deliver clothing and accessories that look current, but somehow also always manage to look appropriate for the time and occasion. It isn't uncommon to own a piece from either store and wear it season after season.
And with the introduction of LOFT Outlet, shoppers on a serious budget could also partake in a little (or a lot of) retail therapy—as long as they could get to a store.
In an effort to keep up with the times and a serious demand for online shopping, LOFT Outlet launched LOFTOutlet.com on June 19 and Ann Taylor Factory followed suit on June 26 with AnnTaylorFactory.com.
"We are excited to offer even more ways for our clients to shop our exclusive styles at a compelling price," Christine Munnelly, SVP, GMM, Ann Taylor Factory and LOFT Outlet told PR News Wire. "Whether a client shops our full-priced or outlet collections, in-store or online, we aim to deliver on her expectations for high-quality, feminine, versatile, modern clothing for a timeless wardrobe."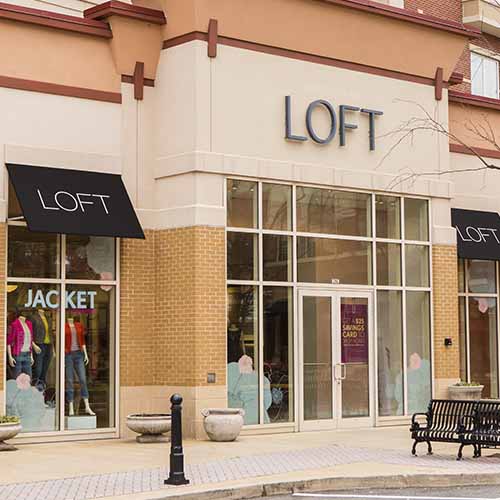 Both Shops Offer A Full Range From Their Lines
Shopping online at either LOFT Outlet or Ann Taylor Factory gives you access to pretty much the same merchandise you'll find at their shops. In addition to a section with new arrivals, both sites carry tops, sweaters, dresses, skirts, pants, and jackets and blazers. If you need a suit, Ann Taylor is the better option for professional clothing that costs on average $130 to $150 (or much less if you're trying to score a pencil skirt or romantic blouse). Meanwhile, LOFT is where you can go for more casual clothing like denim and lounge hoodie dresses and jumpsuits that are priced between $40 to $60.
Both online stores also carry a full line of petite styles and accessories and shoes. Shopping for tortoiseshell sunglasses and dangling earrings and snagging both for less than $20 from LOFT truly is the gift that keeps giving.
Their Sweet Deals & Style Steals Are Where You'll Really Save
Like all great e-commerce shops, LOFT Outlet and Ann Taylor Factory both offer pages where they provide amazing sales deals on a daily basis (they're respectively called Sweet Deals and Style Steals).
A polka dot short sleeve shift dress that originally retails for $89.99 at Ann Taylor Factory is now $39.99. A scoop neck T-shirt can be purchased for just $9.99 (down from $24.99). And over at LOFT Outlet, twill shorts that cost $39.99 are now $12.99 and that simple crew neck cardigan you know you're going to need once fall rolls around is $17.99 (originally $44.99).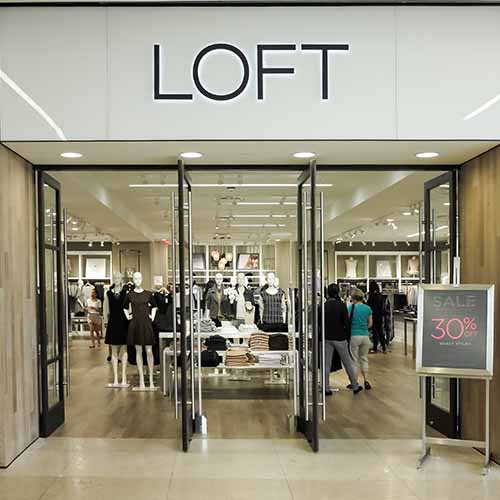 Both Stores Have New Return Policies
In conjunction with their e-commerce website launches, both LOFT Outlet and Ann Taylor Factory have new return policies. If you purchased anything after June 9, 2018, you have 30 days to return an item with an original receipt to receive a full credit. Prior to this change, shoppers had 45 days to submit returns.
As for shipping options, you have two: Standard shipping and three-day business shipping.
Get in there and start shopping at both stores from the comfort of your couch.
SheFinds receives commissions for purchases made through the links in this post.