As the vibrant hues of fall paint the landscape and the holiday spirit subtly permeates the air, marketers worldwide are gearing up for one of the most anticipated events of the year: Black Friday.
This year, Black Friday falls on November 24, 2023, a day that has become a beacon of irresistible deals, massive discounts, and an unprecedented surge in consumer activity.
For digital marketers, Black Friday is not just another date on the calendar. It's a golden opportunity to amplify sales, foster deeper customer engagement, and showcase their brand's top-tier products. However, with many competitors vying for the consumers' attention, it's critical to implement a robust and effective marketing strategy that stands out.
Manychat team has prepared a list of 5 digital marketing hacks designed to help digital marketers and bot builders supercharge their communications and deliver a wow factor that leaves a lasting impression.
The Five Marketing Hacks: Unleashing the Power of Effective Communication
1. Craft a Generous Black Friday Offer Based on Your Product List
The foundation of any successful Black Friday campaign lies in an irresistible offer. Take a deep dive into your product list and devise an offer that is both generous and unique. Whether it's a substantial discount, a buy-one-get-one-free deal, or an enticing bundle offer, ensure it delivers tangible value to your customers. Remember, an offer that resonates with your audience is the first step towards boosting your communication, as it encourages more clicks and shares. More engagement – more value from the campaign!
2. Infuse Gamification into Your Black Friday Campaigns
Revolutionize your customer engagement this Black Friday by integrating gamification into your campaigns. Gamification is a powerful tool that delivers your Unique Selling Proposition (USP) in a fun, interactive way that commands attention. This not only enhances customer engagement but also improves the quality of your campaign.
3. Harness the Power of the AIDA Technique
Attention, Interest, Desire, Action – the timeless AIDA technique remains a cornerstone of effective marketing. Capture your customers' attention with striking visuals and compelling copy. Spark their interest with captivating product details and features. Ignite their desire with authentic customer testimonials and glowing reviews. Finally, propel them to action with a strong and clear call to action. By optimizing each stage of the AIDA process, you can significantly improve your SEO performance.
4. Engage Customers With Timely Reminders and Updates
In the whirlwind of Black Friday, it's easy for your deals to get lost in the crowd. Keep your customers engaged by sending timely reminders and updates about your offers. Remember, consistency is key to building brand awareness and improving your visibility on social media & messaging platforms.
5. Leverage ManyChat's Free Black Friday Templates
To help streamline your marketing efforts and maximize your campaign results, the Manychat team has prepared some amazing FREE Black Friday templates.  Install your Acquisition + Sales flows for your omnichannel strategy or single channel funnels by clicking the button below or by clicking the appropriate channel here: Instagram, WhatsApp, Messenger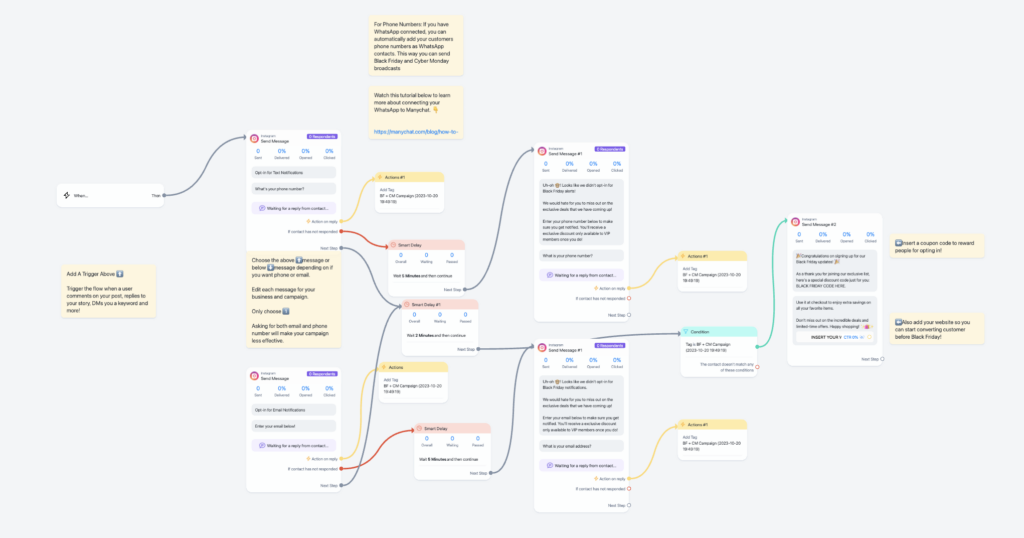 Conclusion
Black Friday is more than just a day of sales; it's a unique opportunity to create a lasting impression on your customers and elevate your brand's digital presence. By implementing these five innovative marketing hacks, you can not only supercharge your sales but also enhance your brand image and strengthen your customer relationships. Remember to focus on creating value for your customers – because when you succeed, you'll have them saying, "Wow!"
So strategize, innovate, and make this Black Friday count!
Get started with Manychat for free!
The post Supercharge Your Digital Marketing Strategy for Black Friday 🛒 (2023 guide) appeared first on Manychat Blog.