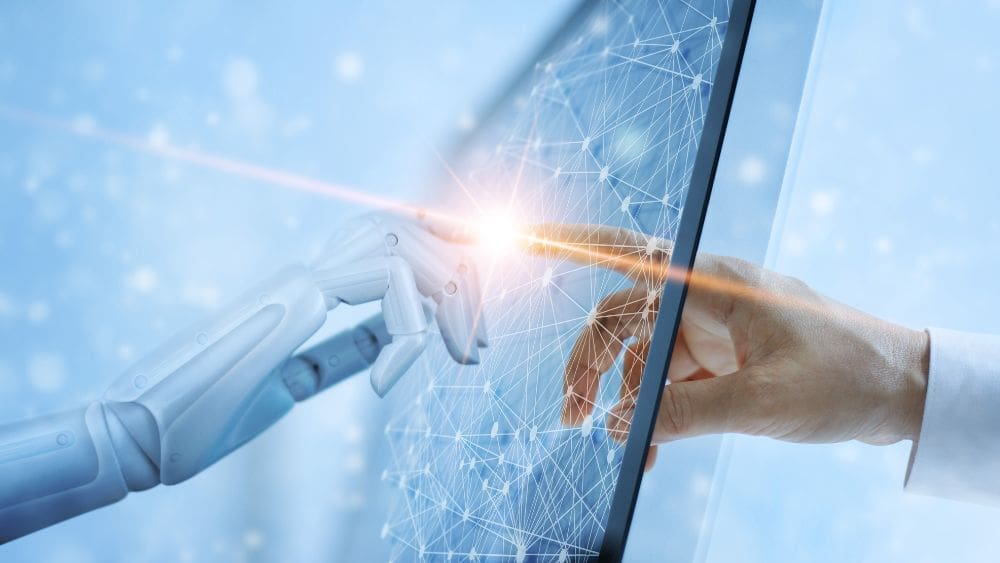 Chances are that your company is already using some artificial intelligence (AI) and machine learning (ML) tools in your digital marketing. Four out of five businesses are, Salesforce reports. Their research further shows that 70 percent of high-performance marketing teams have a fully defined AI and ML strategy, compared to 35 percent of their counterparts. Indeed, AI and ML can streamline your digital marketing processes and dramatically improve efficiency. However, there's a darker side to leveraging this technology, and it's essential to understand some of the pitfalls as you implement and work with it.
What is Machine Learning and Artificial Intelligence in Digital Marketing?
Artificial Intelligence (AI):

Computer software that mimics human thinking to perform tasks and learn from them.

Machine Learning (ML):

A subset of AI using algorithms to create models to perform tasks. The applications "learn" by analyzing data sets.
Examples of Artificial Intelligence in Digital Marketing
Just about any program you use to automate digital marketing processes that operate based on rules is leveraging AI, but not necessarily ML.
Chatbots:

Rule-based chatbots leverage basic AI. These often start with questions such as, "What department do you need to reach?" and then offer choices. They may even recognize keywords and search for articles containing them to give the user helpful answers.

Segmentation:

Programs

can split your audiences and lists based on your selected criteria.

Reporting:

Many analytics programs automatically compile and share reports at specific intervals.
Examples of Machine Learning in Digital Marketing
Segmentation:

Some platforms can automatically group people based on behavior. Lookalike audiences are an example of this.

Paid Ads:

Google and other ad platforms will let you know how many clicks you'll likely receive by boosting your ad budget.
Generative AI is a subset of machine learning, too. Open AI, for example, uses machine learning algorithms to analyze large amounts of data and produce content on demand. Marketers often use it to power chatbots, create blogs, and more. Developers use it to write code for new programs and find bugs. Similar technology can generate images and videos automatically as well.
The Controversy Surrounding AI Tools
Even though AI and ML are powerful marketing aids, there are concerns about how the technology can be leveraged.
Potential for Misuse:

From deepfakes to hidden code that allows hackers to gain access to systems, the technology can be misused or abused.

Misinformation:

Generative AI doesn't know fact from fiction, and it hallucinates. It can't be trusted to tell the truth. Tools that automate content production can also be intentionally used to produce and spread inaccurate information rapidly.

Plagiarism:

These tools "learn" by processing data, so their "thoughts" and the content produced reflect that. They can and do blatantly plagiarize material they've "read."
Google's Stance on AI-Generated Content
Google has gone on the record to say that all content is treated equally. The search engine's algorithms don't care how content is created. It's processed the same regardless.
"Appropriate use of AI or automation is not against our guidelines," says. "This means that it is not used to generate content primarily to manipulate search rankings, which is against our spam policies."
How AI-Generated Content Could Affect Your SEO
While Google's stance may be comforting to businesses that already have websites full of AI-generated content, it should be taken with a grain of salt. The company is constantly trying to deliver the best possible user experience. In support of this, it reviews content for signs of experience, expertise, authoritativeness, and trustworthiness, referred to as E-E-A-T signals, which are part of its quality guidelines.
Knowing that AI gets things wrong, plagiarizes content, and has no personal experience with the subjects it "discusses," can AI-generated content possibly meet E-E-A-T guidelines on its own? The short answer is, "no."
When you also consider that Google and other platforms can now detect when content has been created with AI, loading your website down with AI-generated content may be one of the worst things a brand can do for quality. In these cases, SEO rank is sure to fall.
That doesn't mean generative AI shouldn't play a role in your digital marketing strategy. It does, however, mean that you must take care while using it.
Embracing ML and AI in Digital Marketing: Dos
Following a few best practices when including AI in your digital marketing strategy will help you receive the benefits without suffering from the pitfalls.
Focus on Meeting User Needs
Everything you do should center on one goal: meeting user needs. You can use tools to support your initiatives and work more efficiently, but if what you're doing isn't helping the real people who visit your site and view your content, it won't help your business in the long run, either.
Use AI-Generated Content as a Starting Point
Treat generative AI like a content brainstorming tool rather than a content creation tool, especially with long-form content that search engine algorithms will scrutinize for quality.
Include Other AI Tools in Your Content Creation
Keep working with content aggregators/ curation tools, keyword analyzers, grammar checkers, and other platforms to help ensure your content is relevant, put together well, and delivers maximum value. Generative AI tools don't do it all.
Ensure Accuracy and Quality in AI-Generated Content
Don't assume your AI tool is providing you with accurate information. If you don't have a subject matter expert (SME) reviewing content for accuracy, be sure to research any statements you make to ensure they're factual. Keep Google's E-E-A-T guidelines in mind.
Incorporate Accurate Author Bylines in AI-Generated Content
Google favors content created by a subject matter expert. The company even hires evaluators to review websites to look for details on who created the content and what their credentials are. If a human with expertise reviewed or wrote your content, include a byline that links to information proving their status as an SME.
Check All Content for Plagiarism
Run everything your AI tool creates through a plagiarism checker before publishing.
Avoiding Pitfalls in ML and AI Application: Don'ts
In addition to following the best practices highlighted above, it's essential to avoid the common missteps below.
Exclusively Depend on AI
AI can't do it all. Humans must be involved in your content creation and review process.
Trust AI-Generated Images without Verification
Sometimes, the mishaps seen in AI-generated images are comical, like when a program "forgets" to add hands to a person or adds an extra row of teeth, like in the product photo shown here. But bear in mind that the images you share, even simply for illustrative purposes, represent your brand. Always proof them for accuracy.
Use AI to Manipulate Search Rankings or Spread Misinformation
Your site can get permanently blacklisted by Google if you violate its terms. That means it will never appear in search results no matter what you do or may only appear with a warning, the reports. This is a traffic source most businesses can't afford to lose, considering that more than 90 percent of searches go through Google, per .
Assume AI-Generated Content Adheres to Google's Guidelines
Even if you try to seed your prompts with phrases like "only provide proven and factual information," generative AI tools will do whatever they "want" to do in the moment.
Neglect a Holistic SEO Strategy or Best Practices
While AI can help you improve your SEO, identify opportunities, and craft content, it's not a substitute for a comprehensive SEO strategy that includes obtaining relevant backlinks, creating a sensible site structure, developing topical authority, and more. You must address SEO holistically to have a site that ranks well.
Get Help Improving Your Digital Marketing with AI and ML
As a digital marketing consultant, I fold artificial intelligence and machine learning into my strategies as supportive aids that allow digital marketing teams to work more efficiently and produce better results. If your digital marketing team needs help realizing its full potential or you want to boost your digital marketing results, let's talk. .