What steps should brands be taking as they rethink marketing and engagement strategies as things quickly change?
In response to our recent article about COVID-19 marketing efforts, GCI Magazine asked Sheri to discuss what brands can be doing right now.
"COVID-19 has heightened the need for nimble marketing strategies that can leverage near-term wins and build longer term consumer engagement."- Global Cosmetics Industry Magazine
Catch the full sit-down with Editor Jeb Gleason-Allured here.
Did you know that brands that continue to market during a downturn experience a faster recovery and command a greater market share after a recession? Now is a great time to get ahead of the pack.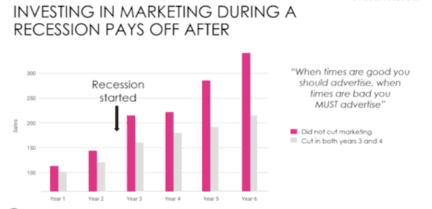 "This is not a good time to cut advertising. It is well documented that brands that increase advertising during a recession, when competitors are cutting back, can improve market share and return on investment at lower cost than during good economic times."– Harvard Business Review
Although times are tough, strategically rearranging your marketing plan should not have to fall to the wayside. To help you get started, Sheri covers various efforts including paid advertising, using trending searches, and creating timely product offerings. Take thirty minutes today to get tools and to get your business on track for the post-covid world.