Digital Marketing Monthly Roundup: August, 2018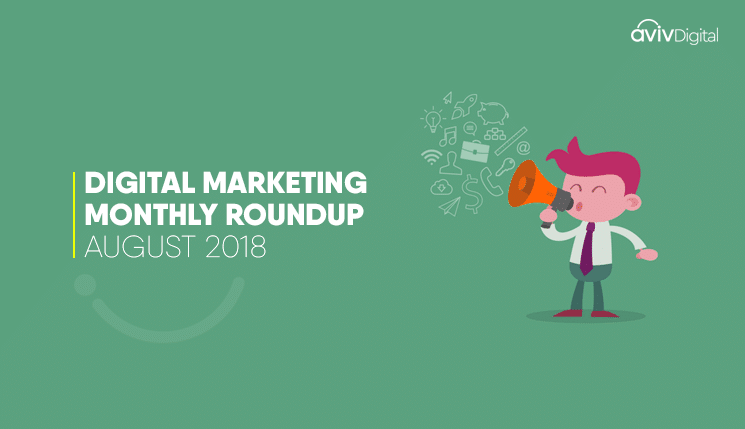 9-08-2018
So, what is news in this month? Get ready to go…
Google Local "You Recently Viewed" Search Panel
This new feature gives a personalized experience when searching for trips and vacations. It segregates your recently viewed spots from the rest.
Mr. Sergey Alakov posted on Twitter with a screenshot of a carousel that shows the 'you recently viewed' these places in Google search also stating that 'only you could see this.'
The screenshot displays those places in Google search that he had past viewed. He says he only 'conducted several branded hotel searches' and not necessarily visited them through Google search.
This feature definitely aids better-searching experience to filter those that have been recently viewed and browse through other options or even refer them again if required for second thought. Now that is certainly a new and helpful option.
Google confirms new FAQs, Q&A and How-Tos for search results snippets
You must have been familiar using snippets for your recent searches in Google. However, Google has now confirmed that the content with a structured data form will now be taken into account for SERP as well.
These new snippets often appear in form of FAQs, Q&A or HowTos. This feature gives you a more focused result for what you are searching.  With the help of AI, it gives more insights into what the searcher expects from the web page before deciding to click on the search result.
So now, the webmaster should be able to create their content planned in a way eligible for a question and answer preview shown. This way the site will appear for search snippets thus attract more traffic.
Google Ads account admins can require multi-factor authentication for all users
Google Ads are under serious threat of being attacked by hacker, particularly those with are used by several users. Now to prevent this, Google has rolled out a new feature in the administrative level. Google Ads account has now added an authentication policy for all users who access a common ad account. The owner can now ensure by enabling 2-Step Verification Process for all users.
When this authentication feature is enabled, the user must enroll their Google accounts in 2-step verification to get logged into Google Ads. It has a second layer of authentication for an extra added protection against the threats of being hacked. In case the 2-step verification is not set up for an account, the user will get an authorization error.This only affects logins to the web user interface; it does not apply to AdWords API or Google Ads API Beta access.
Google also has a seperate login security program provided for high-risk accounts, such as journalists, political teams and other high-profile people who may get subjected to targeted attacks.This system of Google is called the Advanced Protection Program, and users can register their Google Ads accounts with this program instead.
This is indeed a seriously thought-out move from Google to cut the risk of being hacked. If you are administrative owner of a Google Ads account, you will see the option to require multi-factor authentication in the Account Access section of Tools in the Google Ads interface when it rolls out.
Google Expands Featured Snippet
Google's featured snippet have expanded to include Google Suggest navigational buttons. This is a functionality that was announced in January.
AS you enter any vague searches that have more nuanced variations, the new updated featured snippet will now show-up navigational chiclets styled buttons as suggestions related to your query. This help users to reach to a more specific result that they may have intended. This kind of featured snippet now appears more in swearches. These navigational buttons is actually an extension of Google Suggest.It's like having search suggestions in a navigational element.
Here is an example for better understanding:Take a look this search result for the phrase, 'how to zip a file'
Looking for a good team
for your next project?
Here're
a few reasons why you could be one!