Navigating the multifaceted and ever-changing digital marketing landscape as a digital marketing manager is tough.
This article aims to share insights to help you effectively work with your digital marketing manager. It will help ensure that their digital marketing strategies and daily actions cater to and support vital business aspects like sales, customer retention, and brand building.
The title is a little 'clickbaity', and most digital marketing managers don't intentionally hide things – but ignorance is not bliss if you want to get the most out of them.
I will highlight a few things you should regularly discuss with your digital marketing manager to ensure you are moving in the right direction together. 
Transparent communication & accurate reporting
Engage regularly with your digital marketing by establishing a regular reporting cadence. 
Establish a workflow that delivers consistent weekly and monthly digital marketing reports, emphasising the correct metrics. Often, marketing managers focus on the wrong metrics, causing ineffective digital agency management and unproductive marketing expenditures.
I like to receive a weekly snapshot report with 4-5 bullet points and a monthly report with a more detailed picture.
Bullet points must be specific and benchmarked – e.g. "Organic traffic up 30% over last week."
Marketing reports are often vague – e.g.  "This was the best performing post last week with 12 clicks." It may well be – but is this good or bad? What does it compare to?
Request a set of bullet points that can't hide the facts behind vanity metrics and force the digital marketing team to review true performance and improve on it. 
Here is the weekly social media snapshot I received this week for our business. I've been pressing the team – and they've done well – the numbers are very good this week.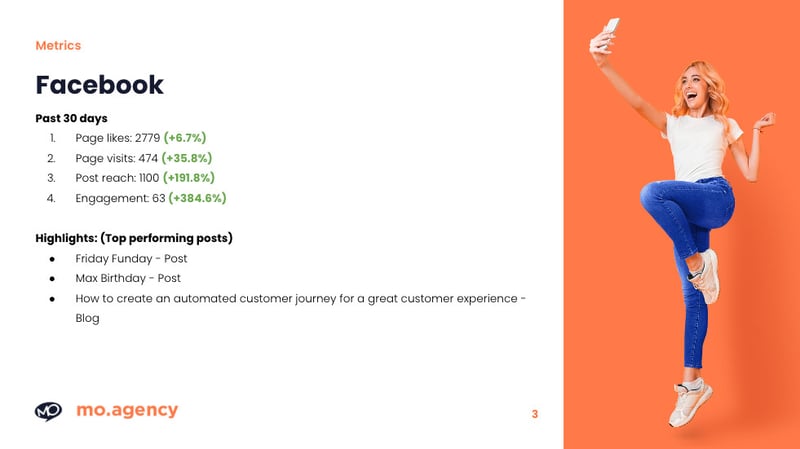 Below is a weekly snapshot sent to one of our clients on a website project. Again, very to the point. Easy to digest and very actionable. 
Website Traffic & Generating Qualified Leads
Identify where your traffic is coming from. Website traffic can easily be propped up by poor-quality paid traffic (Google Ads, Facebook Ads, etc.).
Both organic and direct traffic should be increasing month on month.
Organic traffic comprises mostly users searching for providers like you, but they have yet to search for you specifically.
Direct traffic is a user visiting your website by typing in your web address. More direct traffic indicates more awareness in the marketplace. This is a leading indicator that marketing is working to a degree. 
If your website isn't generating good leads while reports suggest an increase in traffic, the increase is likely attributed to poor-quality paid traffic.
Developing qualified leads that match your ICP (Ideal Customer Profile) should be the primary goal of a website. 
Prioritising Organic Traffic & Domain Rank
Prioritise your organic traffic & domain rank (also called domain authority) over vanity keyword rankings. An SEO strategy should prioritise generating organic traffic from the countries and regions you operate in rather than focusing on specific keyword rankings.
Shifting towards easier-to-rank for long-tail keywords and ensuring your website's domain strength (DA/DR) is higher relative to competitors is crucial. Domain Authority is commonly overlooked and requires regular monthly reviews to confirm ongoing enhancement.
It's critical your website DR grows over time. A higher DR than your competitors translates to capturing more organic traffic than them. How does DR go up? Get your website mentioned on news sites, editorials, and business directories with a clickable backlink to your website. Tough work – but modern digital marketing managers should have an action plan around this. 
Visit Ahrefs to check your DA and your client's. It's free. 
Upholding Data Privacy and security
Websites, especially older ones, can be highly susceptible to cyber-attacks and data breaches. Regularly update your website's security features, especially when using a CMS like WordPress. Ensure the WordPress version and plugins are always up to date. Enforce stringent security protocols like two-factor authentication for user logins.
Ensure privacy policies are current and all communications allow users to manage their email subscription preferences and unsubscribes. This preserves and respects user data privacy and ensures legal compliance.
Unfortunately, data privacy is often a set-it-and-forget-it affair for many digital marketing managers. It needs to be reviewed monthly – at a minimum. 
Social Media growth
Social media strategy should be built around the type of business you conduct. B2B businesses should focus on LinkedIn and use Facebook to celebrate their culture and employees.
I don't care for likes, shares or any of the metrics on social platforms – unless the referral traffic to your website from the social media platform increases. 
B2C is more nuanced, especially in retail or similar lines of business where the conversion takes place away from the website or your sales teams. 
Maintaining consistency across all online platforms
Ensuring consistency in content creation, social media posting, online ads, or reporting metrics is vital for online success. Maintaining brand consistency across all platforms is crucial for recognition and customer retention. It's an often neglected area and should be a focus for all digital marketing managers.
This is very important – especially considering that the average tenure for a digital marketing manager is around 24 months. Regardless of who leads your digital marketing – there is no room for personal tastes and opinions. Your brand and results must transcend individuals. 
At the very least, get a basic Visual Guideline Document in place.
Below are some samples from our guidelines. Ours are extensive; yours does not need to be. A few basic rules covering logo usage, image usage, fonts and colours will suffice.
Leveraging digital marketing agencies
While the best digital marketing managers effectively utilise digital agencies by understanding and playing to their own digital marketing strengths and weaknesses, others may inappropriately blame these agencies for poor performance.
I've met my fair share of underwhelming digital agencies and equally unimpressive digital marketing managers who fight our advice and strategies at every turn. 
A successful relationship between a company and its digital marketing agency requires synergy and accountability from both parties.
Investigate the relationship if your digital marketing manager is not working well with your digital agency. Step in and get the relationship working, or ask one of them to leave.
Adaptability in your strategy
A digital marketing manager needs to be agile, capable of adapting strategies monthly, and evaluating and amplifying what works.
There should be transparent communication with your digital marketing manager regarding successes and failures. They should be able to devise clear and actionable plans for improvement. Remember that digital marketing often involves trial and error and continuous adjustment to leverage opportunities successfully.
Final thoughts
To work well with a digital marketing manager, knowing the questions to ask and the priorities to focus on is helpful.
Modern digital marketing has many moving parts and hundreds of data points to track. A helping hand from the business to align the marketing role with actual business goals and priorities goes a long way to help empower your digital marketing manager in their role.